I have worked with a plethora of brands over the years! And when it comes to partnering up with these brands, there is a lot that I take into consideration, because I am NOT that kind of influencer who will just say YES to everything and anyone willing to send me a product or even pay me. My goal has always been to be 100% real with my reviews, my readers, and the brands I am working with. It is not always the easiest route to take, but it is what I believe in and will always do, no matter what.
Finding brands to work with these days is not always the easiest, but when I do find one that meets my check list, it is a really GOOD thing! I want to work with brands that respect my honesty, my work experience, my education, dedication, and my passion for helping and inspiring others. With ALL of that being said, I was really excited when Ameo Life reached out to me about a month ago to sample and review some of their products.
We definitely live in a world today where many of the products we use and the foods we eat are loaded with chemicals, fillers, and ingredients that are so harmful to our bodies from the inside and out. It is pretty scary and I am finding that as I get older I am becoming more conscious of it. I am finding that I am becoming more sensitive to certain foods, skin care products, and even detergents. When I was growing up, I had a rock hard stomach and no allergies, but that has changed and now I NEED to be more careful as to what am I not only putting in my body, but on my body!
AMEO means "beloved" or "to be loved" and they pride themselves on making products from some of the finest natural ingredients, free of fillers, and no harmful chemicals, to keep YOUR body functionally at its best from the inside out!
What I found interesting about Ameo Life is that "silver" is their primary ingredient! It is time to geek out a little bit, so buckle up and let us learn some really cool, important, and scientific things about silver, because this was all NEW information to me and I love learning about information like this!
Silver is different from any other ingredient or mineral as silver naturally combats bad bacteria and yeast. Many of the health conditions that people suffer from start as a bad bacteria and/or a yeast condition. Bad bacteria and yeast cause leaky gut syndrome and many of the autoimmune conditions people suffer from by putting a huge workload on the immune system.
Silver is a fantastic tool to withstand these conditions as it does not metabolize or build up in the body. All other supplements require the body to perform an action to break these supplements down to be positively used, which puts additional stress on the immune system and many supplements simply pass through the body unused.
Ameo Life has produced a silver that is structurally bonded to a structured water molecule that cannot separate itself (meaning that they do not require shake before usage). This means that their silver cannot be stored in the body and will not lead to any potential over time concerns. They also produce a silver that is pH balanced alkaline, as compared to all other silver based products that are acidic. The body loves to be in an alkaline state as bad bacteria cannot grow in an alkaline environment, but will flourish in an acidic environment.
 Now that we have covered silver, let's talk about the products…How you can use them…How they can help you…Which ones I use and why I like them!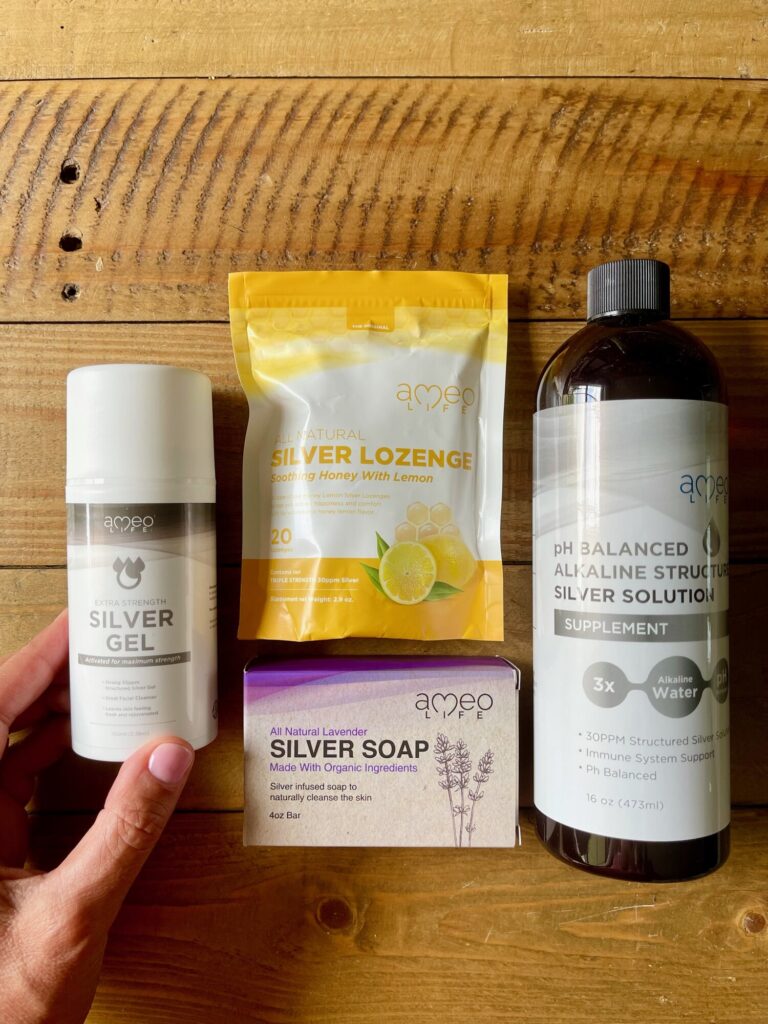 And obviously one of the many amazing things about Ameo Life is that it is pet friendly!!! Their products can assist with the natural wellness of your pets, so start sharing!!!
Silver Gel on your pets paws can help hydrate the skin;
Putting the Silver Solution in your pets water bowl can help purify the water and further support your pets immune system;
The Silver Solution can also be used in a mist bottle and sprayed on your pest fur!
Make sure to check out a recent blog post that they wrote about "Keeping Our Furry Friends Healthy In The Heat"! The heat down south is INTENSE and I try to take as many precautions as I can to make sure that Lucy stays healthy, strong, and happy during the summer!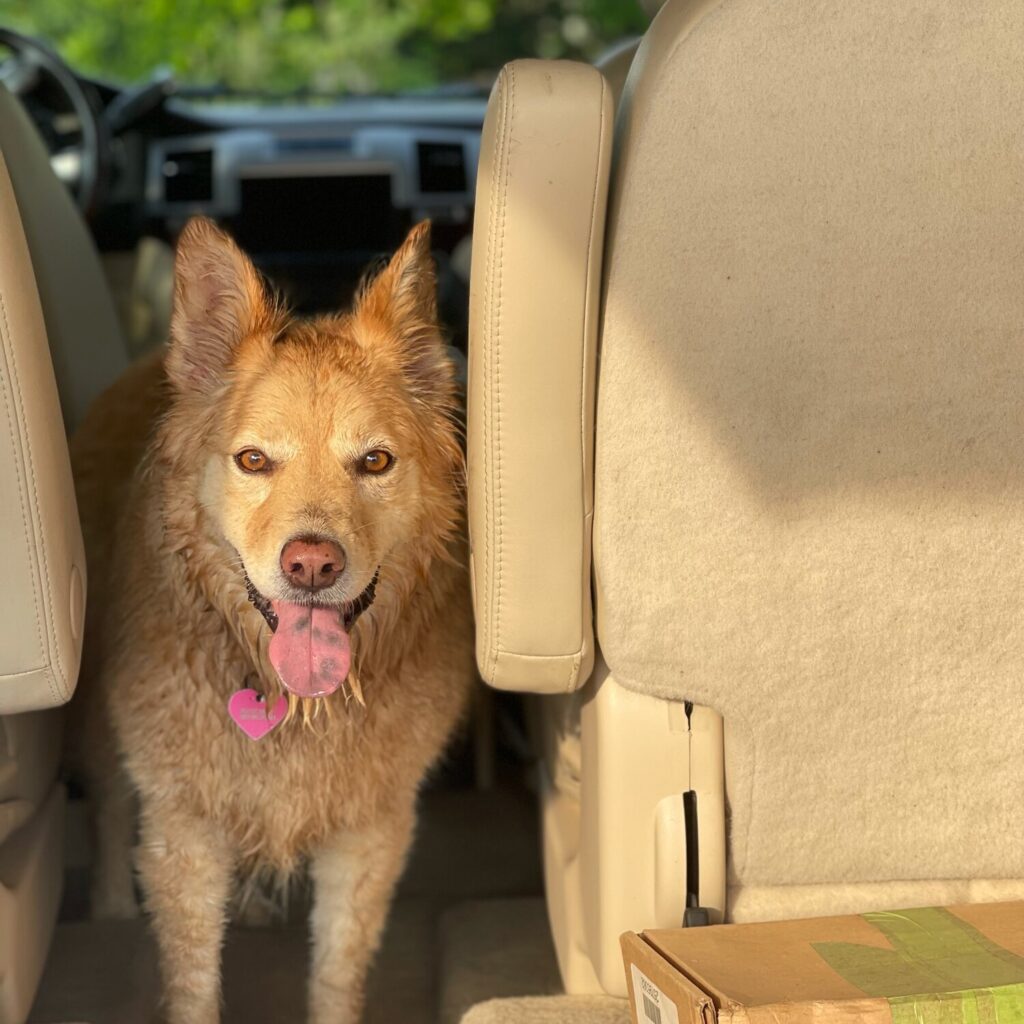 So…What do I think of these products?!?!?
Let's chit chat about them shall we…But also let me say how AMAZING the team at Ameo Life is. They have been so energetic, kind, patient, knowledgeable, and always quick to respond to any questions I have had. These my friends are the kind of brands you not only want to work with, but that you want to support. They believe in their products!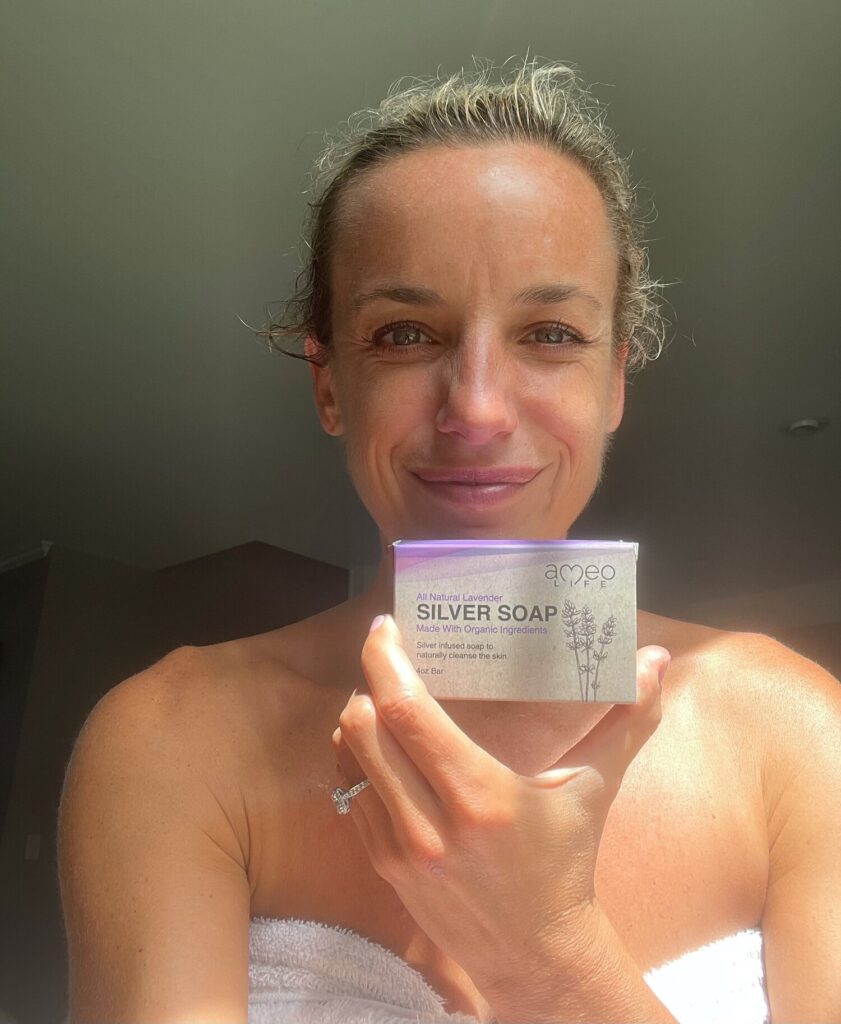 The two products that I really love and use daily are:
Lavender Silver Soap: I have a thing for all things lavender! And this soap is self-care in a box. The smell, the texture, the soapy suds, it is ALL good stuff and you know that it is ALL real ingredients, which makes my skin happy, healthy, and glowing! I may have just left it on my desk for a while, because the smell is so relaxing and beautiful!
Extra Strength Silver Gel: I really don't have a skin-care regimen. I don't spend hundreds of dollars on products. And in all honesty, those expensive products make me breakout like a teenager. It is HORRIBLE! I keep it REAL SIMPLE…Facial cleanser, moisturizer (if necessary and usually only in the Fall/Winter), sunscreen, and real foods! BASIC!!! This facial cleanser is BASIC, with minimal ingredients, and cleans my skin of the sweat, dirt, and other toxins out there. It feels fresh and rejuvenated. I will typically use this 2 – 3 days a week.
These were the most important to me to review, because, as I said earlier, I have been struggling with sensitive skin issues and my skin has not been responding to certain soaps (Shannon bought some Dial soap from the store and after one use, my skin was a mess. It was disgusting and horrible. Never again), facial cleansers, and detergents.
Thank you Ameo Life for providing me with some amazing products to try, to share with my followers, and to more importantly be passionate about what you are doing and creating for us!
Which products would you want to try?
Do you care about using products that only have natural ingredients, NO fillers, and NO chemicals?